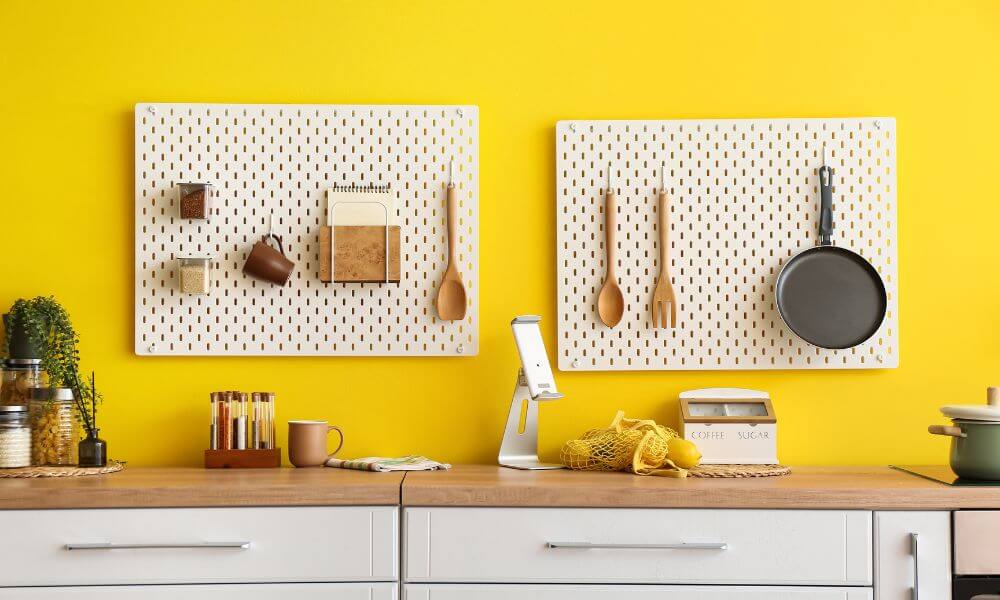 You can explore these five ways to add more storage to your kitchen if you ever feel like the walls are closing in and you have nowhere to put things.
by KCD Blog • July 19, 2023
---
Sometimes when preparing a meal, it feels like you don't have enough space to operate because you lack kitchen storage. You can only clean so many times before you decide to take more drastic measures. These five ways to add more storage to your kitchen may seem strange, but you will quickly see the difference it makes.
1) Start With Decluttering
Before you begin your mini-DIY project, you must declutter the entire area to see what you are working with. During the decluttering, you will discover things you didn't even know you had that you could throw away.
It's best to put things in certain piles so you're not playing mix-and-match while reconfiguring your kitchen. There's a strong possibility you can eliminate a quarter of your problems after completing the decluttering process.
2) Use a Pegboard
Assuming that you put your utensils and kitchenware in one spot after decluttering, you can now designate specific locations for these items. What can make things even better is if they take up little to no room in your cabinet space.
Using a pegboard for pots, pans, knives, and other items is a slick way to add more room. Stacking your pan collections on the shelves will likely require you to use the entire cabinet, limiting your storage capacity. But when you can hang these items in a small space on the wall, you have plenty of shelf space for everything else you're keeping.
3) Captain Hooks
You shouldn't stop at pots and pans when hanging up items. As a matter of fact, you should use hooks for everything you possibly can. Perhaps you have a wonderful collection of mugs that you usually keep tucked away in a cabinet.
You can hang these mugs by the handle and display them for all to see when living that hook life. Any time you can take integral parts of your kitchen and turn them into a part of the aesthetic, you're doing kitchen storage right.
4) All the Way Up
The only times we generally see the tops of our appliances and cabinets are when we first install or plug them in. Rather than ignoring them and letting them collect dust, you can utilize them for some of your odds and ends.
Storing things on top of your refrigerator and freezer ensures those items aren't taking up cabinet or countertop space, eventually leading to clutter. Your kitchen will feel like a massive canvas with which you can work your magic if you remain vigilant about clutter.
5) Taking Sides
The inside of kitchen cabinets is the primary storage spot for many homeowners, but there is more to one's standard cabinets than meets the eye. You may have a few square feet of space on the sides of your cabinets, allowing you to install a hanging rack. This rack is another possible destination for utensils like ladles, large wooden spoons, and spatulas, giving you more counter and drawer space for other things.
These five ways to add more storage to your kitchen may seem unconventional, but they work. Kitchen Cabinet Depot is the best place to purchase discount cabinets online. Give our advice on creating more storage a try with some of our beautiful cabinets that make your kitchen delightful.
---
overall rating:
my rating:
log in to rate