by Kitchen Cabinet Depot • November 23, 2018
---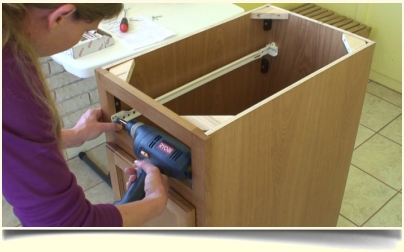 Ready to Assemble Kitchen Cabinets Become Trendy
Until recently, the American perception of RTA kitchen cabinets has been restricted to a rather limited range of low to middle-end "do-it-yourself" fare, bookcases, television stands and bunk-bed sets. But the definition of RTA is considerably broader. Interest in knockdown furniture has been growing measurably for the past 10 years or so. Not surprisingly, the ready to assemble industry has spread like gangbusters to the kitchen with special interest in kitchen cabinets. Ready to assemble furniture now comes in easy-to-carry packages or kits, with all the hardware and instructions needed for quick assembly.
Ready to assemble kitchen cabinets are smartly styled and reasonably priced. Consumers want to own what they see as being parallels between the tastes and buying habits of the upwardly mobile. American homeowners, buying RTA cabinets, now account for a whopping 40 percent of all furniture sales.
The bottom of the price line may begin at a place called RTA, otherwise known as ready to assemble but these kitchen cabinets are sold at many home improvement stores. Quality ones can be found on the Internet with substantial savings to boot. You'll save a bunch of money by doing it yourself. Your choices of materials and finishes are unlimited. If your budget's tight and you're flexible about the look you're after, this is a great way to go.
Theoretically, ready to assemble kitchen cabinets in a kit can be put together by amateurs. Very few tools at all are required. Components simply snap together.
RTA Kitchen Cabinets Have Come a Long Way
Savvy do it yourselfers will be pleased to find that manufacturers are upgrading RTA products to provide better assembly instructions, quality finishes and improved fastening systems.
The RTA industry for kitchen cabinets and bathroom cabinets is expected to grow 12 to 15 percent annually for the next five years, according to industry analysts. Manufacturers have upgraded the RTA line to include wood veneers, brass hardware, tempered glass doors and other features found on expensive kitchen cabinets. Computer-controlled routing and embossing systems have made possible such things as concealed fastening system that eliminates external screws and plastic screw covers.
Since the days of wobbly, hard-to-put-together TV stands; RTA has come a long way by producing beautiful kitchen and bathroom cabinets. RTA is now an option for consumers looking to create a picture-perfect home that looks like a million dollars for only a fraction of the cost.
---
overall rating:
my rating:
log in to rate