by Kitchen Cabinet Depot • January 28, 2018
---
​
Here's how you can decorate old kitchen cabinets. Want to do something really "green"? Besides replacing your cabinets, if they are still solid and well-built, there are other options. It is often easy to overlook the decorative possibilities in these utilitarian pieces, so practical for storing food, miscellaneous items, and sentimental treasures. But the broad, flat surfaces on these offer the ideal opportunity to work a little painting and decorating magic. The doors are like blank canvases waiting for your creativity to explode upon them with color, texture and pattern.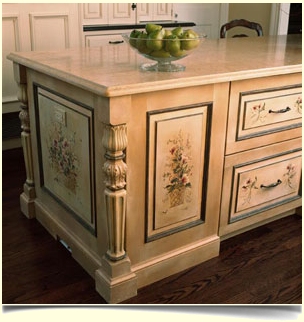 As you discover the range of techniques to be found at your local craft store from folk art, stroke, and decorative painting styles to faux finishes to abstract effects, remember that you can easily change the pattern or color scheme of the kitchen cabinets to complement your home's decor. Choose colors or repeat a motif from a room's fabrics, wall coverings, or rugs. Personalize what you create as much as possible. One of the main reasons to paint and decorate these surfaces is to make your pieces stand apart from mass-produced furniture.
Begin by practicing and decorating old flea market or yard sale cabinets and chests. Then, once you've gained confidence and perfected these techniques, you might want to try your skills on your kitchen cabinets or bathroom cabinets.
Always keep an open mind, the decorating possibilities are boundless. You are only limited by your own creativity. Every time something doesn't go as planned, it might actually be a happy accident and the start of a whole new level of artistic endeavor.
Before You Decorate Your Kitchen Cabinets
Before you begin, here are a few things to familiarize yourself with before beginning to decorate cabinets and chests. Knowledge and organization will be the key to your success. Take time to review the general tools, basic techniques, and transfer, preparation, trimming and finishing methods from the instructions you are using. You can buy books at the craft store that will give step-by-step instructions as well as a list of materials and tools to give you a good foundation and get you started on the right track.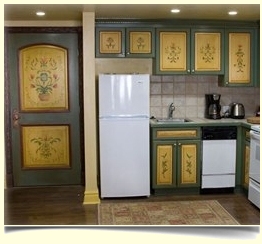 Paints, Glazes and Varnishes
The house paint, art material, and craft supply industries have begun a strong movement toward developing and manufacturing environmentally friendly, water-based products. These products are nontoxic, have little or no odor, and clean up easily with soap and water. The projects in this book are executed with a majority of these new age, environmentally protective products.
To create your own color mixtures in small quantities appropriate for painting kitchen cabinets a set of artist's grade or student grade acrylic paints in true artist's pigments will prove useful. Prima Acrylics is a good choice but there are other good brands to select from. The following colors provide a good, basic palette for mixing a range of colors: Alizarin Crimson, Bright Red, Burnt Sienna, Burnt Umber, Cadmium Orange, Cadmium Red Light, Cadmium Yellow Light, Iridescent Gold, Iridescent White, Mars Black, Metallic Gold, Green, Raw Umber, Titanium White and Ultramarine Blue.
Artist's oil colors can achieve rich, transparent colors. A good palette for beginners can be made up of Alizarin Crimson, Burnt Sienna, Burnt Umber, Cadmium Yellow Medium, Ice Blue, Leaf Green, Prussian Blue and Titanium White.
To provide a foundation for the paint and craft techniques, you'll need a se­lection of base paints, - Most projects will specify either flat or semi-gloss latex-based paint. You can have these colors mixed at a hardware store or home improvement center. Today, most house paint departments offer computer color matching to match any reference material you bring them, such as fabric, wallpaper, or carpet. A quart or gallon of base paint, depend­ing on the size of the piece, should suffice. For smaller amounts, look for 16-ounce squeeze bottles of acrylics at art and crafts stoves. These small sizes are great for trim colors on kitchen cabinets and bathroom cabinets. You won't be able to get custom color matches with these ready-made paints, but you'll pay less and waste less.
Some projects require the use of a colored glaze. Create these colored glazes by adding artist's acrylic or latex house paint to a clear glazing medium. You can choose from the many ready-made, clear-glazing products on the market or you can make your own by mixing equal amounts of water-based polyurethane varnish, acrylic retarder, and water in a jar and stirring thoroughly.
Whichever type of clear glazing medium you choose, you'll want a glaze product that has sufficient open time (working time) to allow you to manipulate the wet glaze and paint. Due to the size of most flat areas on kitchen cabinets, you'll require at least fifteen to thirty minutes of open time to achieve successful results on one panel.
A simple decorative painting project for kitchen cabinets could be green ivy on a white or beige background. Matching curtains and accessories with an ivy motif would be stunning.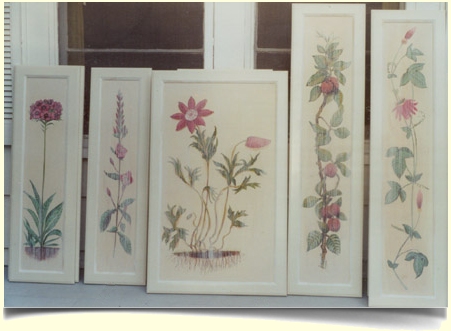 ---
overall rating:
my rating:
log in to rate