Refreshing your bathroom space can start with a simple change. So here are tips on how to choose the right RTA cabinets for your bathroom space.
by KCD Blog • May 26, 2023
---
Home renovation can result in beautiful, eye-catching designs that impress visitors and make you feel more at home. However, renovating a bathroom requires a steady budget and planning to execute and produce the bathroom of your dreams.
So here are tips for choosing the right RTA cabinets for your bathroom space, from reviewing your budget to understanding the different assembly types. Before you know it, your bathroom will become one of your favorite spaces in the home.
Review Your Budget
When choosing the right RTA cabinets, you must review your finances and create a bathroom budget before starting your project. You want to compare layout ideas to create a bathroom design that best aligns with your budget. This will yield the best results. New cabinets and vanities can cost a considerable amount, but knowing how to offset the high costs can help.
For instance, purchasing unfinished cabinets, finishing them, and installing them yourself can help reduce costs. While it can take longer, RTA cabinets can simplify the process with quicker deliveries, pre-drilled holes, tools, and a lower price than custom or pre-assembled cabinetry. This makes for an easier, speedier DIY project that won't force you to spend hundreds, if not thousands, of dollars.
Choose Your RTA Cabinet Type
When choosing RTA cabinets for your bathroom, the overlay can considerably impact presentation and functionality. The cabinet overlay refers to how the door sits against or within the cabinet frame if one is present. Luckily, there are a few common types: inset, classic overlay, full overlay, and frameless styles.
Inset
Inset cabinets feature doors and drawer fronts that fit inside the cabinet's face frame openings. This creates a timeless look with tight and consistent spacing and a flush cabinet front rather than a simple overlay hiding the fine wood that makes up the stiles and rails. Inset cabinets are a current hot trend and are growing in popularity. Due to more detailed construction requirements, this style generally has a higher price point than most others.
Classic Overlay
Classic, or standard, overlay cabinets feature doors and drawer fronts with 1∕2" overlay doors. This creates a partial overlay with about 1" of the cabinet face frame revealed. Pricing for this cabinet style is generally on the lower end of the mid-range. It's still the industry standard today but is no longer the most popular option. People also refer to it as American-style overlay.
Full Overlay
Despite its name, don't expect the look of a frameless cabinet with this style. However, it does provide clean lines with its mostly flush doors and drawer fronts sitting on the face frame. The doors and drawer fronts generally leave about 1∕4" of the cabinet face frame revealed. This is by far the most frequently used overlay today, so it's easy to find in lots of different door styles and colors. Full overlay cabinets fall into mid-range pricing.
Frameless
Frameless, or European-style, cabinets do not have a face frame. The cabinet box construction consists of plywood or Melamine-coated MDF sides, bottoms, and backs (many include open backs). Frameless cabinets also generally feature feet that screw into the base of the box instead of a standard built-in toe kick. Since there's no face frame, the doors mount to the inside edge of the cabinet wall. Frameless cabinets have the advantage of more easily accessible storage space. There's no frame to block part of the cabinet opening. Frameless cabinets generally carry the lowest price point.
Choose Your RTA Cabinet Assembly Type
Ready-to-assemble cabinets also come in different assembly types. The most common assembly types include cam-lock, dovetail, and metal-plate assemblies. All the options will provide a cabinet every bit as durable as their fully assembled counterparts when you use wood glue at the joints during assembly. Without the wood glue, they're still very sturdy. And if assembled correctly, no issue should occur. This also gives you the advantage of being able to break down the cabinets and move them to a different location more easily. Sometimes, you can take them with you.
Cam-Lock Assembly
A cam-lock assembly consists of cylindrical fasteners, allowing for the quick and easy setup of RTA cabinetry. It locks the keyed bolt and tongue bar into place and is often in mass-produced furniture. However, cam locks can result in easily jeopardized cabinet integrity, especially if the screw doesn't insert in a straight direction. This is why most RTA cabinets today use a more modern method.
Metal Plate Assembly
RTA cabinets can also have a metal plate assembly, which includes a locking metal plate system. This metal plate system incorporates metal plates fixed over a matching L-bracket assembly, attached with screws in pre-drilled holes. They provide exceptional support and can go on the inside of the cabinet so that they don't distract from the overall design.
Dovetail Construction
Dovetail joints are some of the strongest types of joinery. Always look for dovetail drawer boxes. They incorporate interlocking fan-shaped joints that hold the drawers together. As a result, they offer superior support and prevent separation, resulting in high-quality durability for years.
Consider Your Bathroom's Style
Every homeowner's bathroom style varies. The space may be simple and classic or vibrant and expressive. When exploring your RTA cabinet choices, choose cabinets that align with your bathroom style. Consider your sink, bathtub, and toilet, whether you want a cozier, warmer vibe or a more minimal and sleek style.
If you have steel or porcelain features with white or beige walls, minimal cabinet designs, such as frameless cabinets, can give your bathroom a more modern feel. Furthermore, if your bathroom has more wood accents with warm colors, opting for wood cabinets can help seamlessly blend everything. Various stains, glazes, paints, and distressing details can also make your RTA cabinets stand out. It's all a matter of taste. Be sure to pursue a design that speaks to you to ensure you'll enjoy your new bathroom for many years to come.
Select Your Bathroom Cabinet Color
Color plays a significant role in the mood of your bathroom space. Warm colors like red, orange, and yellow create a sense of comfort and energy. Conversely, cool colors like green, blue, and purple form a feeling of tranquility. When switching out your current cabinets for RTA cabinets, adding a new color can enhance the mood.
After starting with a classic neutral base, you can add your own style with pops of color in your décor and accents. Furthermore, you can explore various undertones and hues to elevate the sophistication of your bathroom. For a dramatic makeover, consider a new paint color. Going with pink, peach, lilac, and seafoam green can add a pop of soft excitement to your bathroom space.
Installation Tips
Once you've received and assembled your new RTA bathroom vanity, installation is the next step. While it's a straightforward process, having someone help support the cabinet can make installation much easier, especially when hanging wall cabinets. One piece of advice is to start the installation process with the cabinets highest from the ground, such as the upper corner cabinets. This keeps you from having to reach over your newly installed base cabinets when installing any wall cabinets. Find where the wall studs reside and use a pencil to mark where you want the cabinet drilled.
From there, carefully place the cabinets against the wall. Remember—you don't want to fully screw your cabinets tightly until the rest are all in place. Afterward, you must loosely screw the adjacent cabinet next to the corner one, clamping them together. Continue this process until you've installed all hanging cabinets. Once placed and spaced properly, fully screw them into the wall and similarly install base cabinets using shims or levelers to prepare the surface for a level countertop. After this, add any finishes, trims, décor doors, toe-kick, and any other accessories you might desire.
At Kitchen Cabinets Depot, we provide high-quality, ready-to-assemble cabinetry to make every home renovation project effortless. We offer discount vanity cabinets that'll meet all your needs. Our straightforward RTA cabinet assembly video guides are simple to follow, whether you're a novice or a home renovating expert. If you have any questions about our RTA cabinets, contact us today.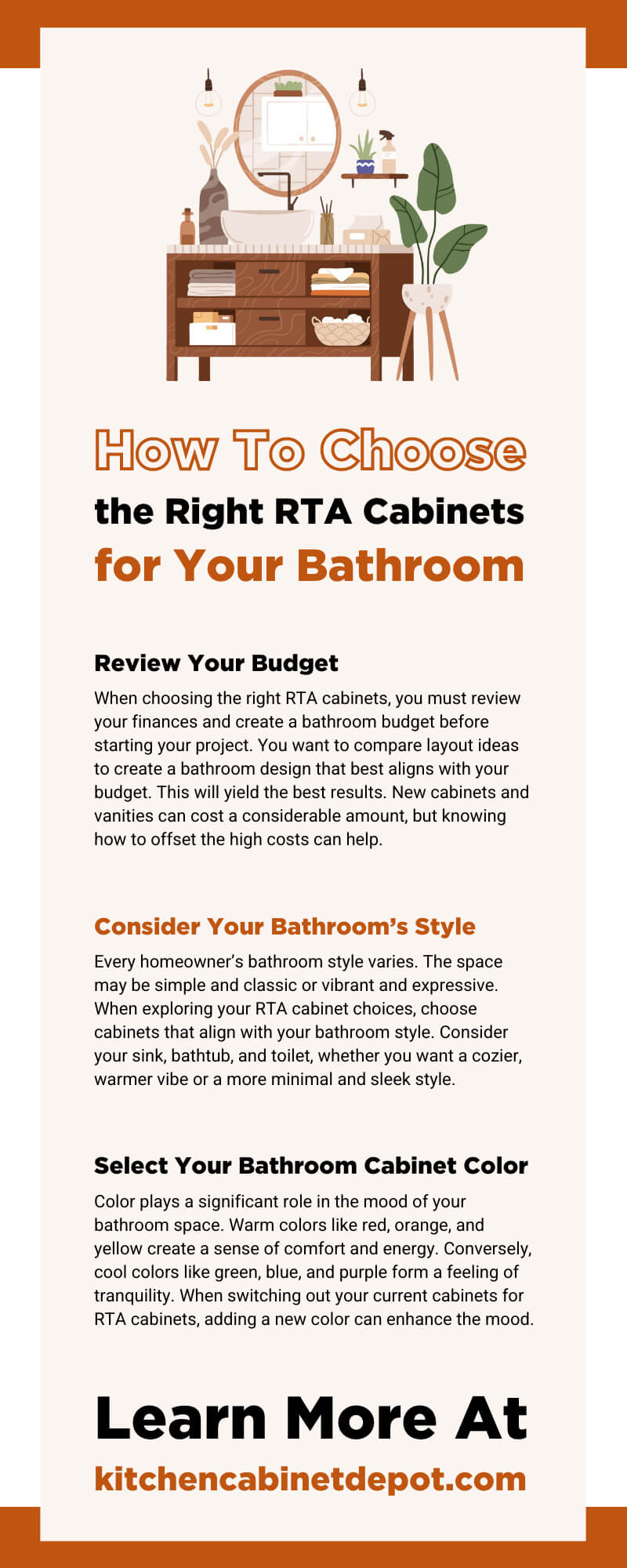 ---
overall rating:
my rating:
log in to rate