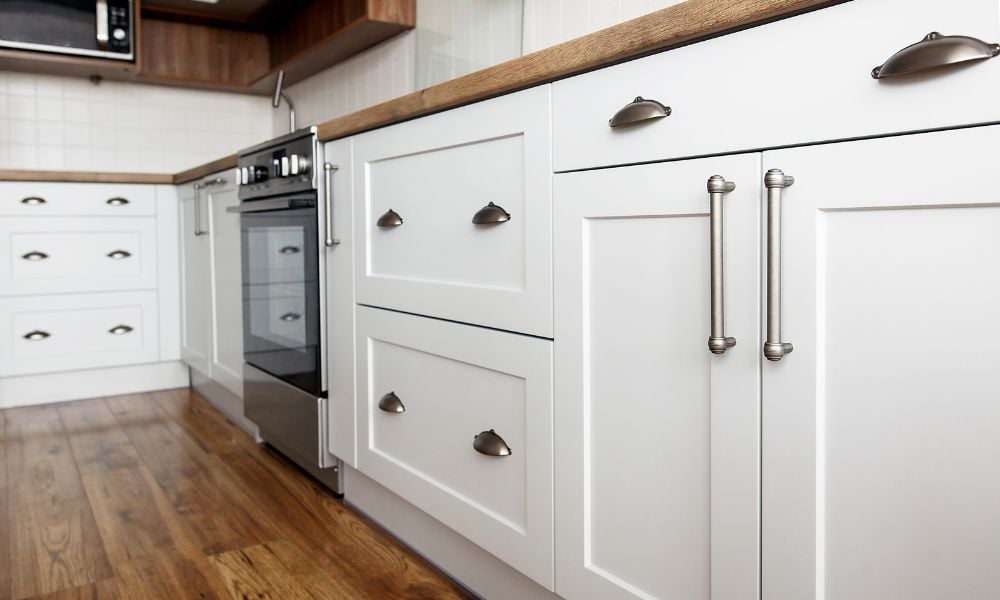 by KCD Blog • February 17, 2023
---
When you plan on renovating your home, you want to have long-lasting, reliable quality and visual interest that impresses visitors. It's especially true when remodeling your kitchen space. You want the best quality appliances, fixtures, lighting, and décor that reflect beauty and functionality. Of course, this also applies to your cabinetry.
Kitchen cabinets can change the entire mood and feel of your kitchen through the types of materials they use and their color. When you select ready-to-assemble cabinets, they offer functionality and cost-effectiveness. So here's how to choose the best RTA cabinets for your kitchen space.
What Are RTA Kitchen Cabinets?
Ready-to-assemble cabinets are a straightforward concept. Once you've ordered RTA cabinets, you'll find all the parts have holes drilled in the necessary areas, the pieces come in the appropriate sizes, and the finishes you requested are present. The parts will arrive wrapped and staked for protection. You can either pick them up from the store of your choice or have them shipped to your home.
Once you bring your RTA cabinets home, you assemble and put them in yourself. Your cabinets should come with helpful, straightforward instructions, consisting primarily of drawings with little to no written guidance. Some cabinet instructions come with URL links or QR codes to video assembly instructions. Ready-to-assemble cabinets allow for a simple and quick process that doesn't take considerable time out of your schedule.
Tips for Choosing RTA Kitchen Cabinets
Now that you understand the concept of RTA kitchen cabinets, you can move on to our guide for picking the right ones for your home. Other tips before purchasing include understanding the types of RTA cabinets available, knowing sizes and placement, and considering additional amenities.
Before Purchasing RTA Cabinets
Before you make your choice, you need to make other considerations as a homeowner. Replacing kitchen cabinets occurs once existing ones fall out of style and require upkeep. Choosing RTA cabinets involves time and money but allows for refacing them in a cost-friendly way.
There are instances where your cabinets start falling apart, cracking, or showing other damages. If you can no longer get any use out of your existing ones, replacement is the best solution. Replacing your cabinets with RTA cabinets can offer a practical, beautiful result that lasts for years.
Types of RTA Cabinets
There are many styles and types of RTA cabinets for your kitchen. You can find RTA kitchen cabinetry that's simple, carved, molded, or has glass inserts. Whether you choose a frameless or face-frame construction, both offer a dazzling array of finishes, door styles, colors, and door pulls that influence the cabinets' appearance. Moreover, accessories, hardware, and stains allow cabinets to achieve a contemporary, tailored version of a country style that also comes in a traditional tone.
RTA cabinet overlay is another consideration for refacing. There are a few types to consider: partial overlay, full overlay, and inset overlay. Partial overlay leaves spaces between the cabinet doors and drawers, while full overlay covers the entire front of the cabinet frame, leaving little to no room when the cabinet doors meet. Lastly, inset overlay cabinet doors fit within the frame, laying flush against the cabinet frame.
RTA Cabinet Size and Placement
When choosing RTA kitchen cabinets, you want to select the appropriate sizes that fit within your kitchen. Whether you pick a mounted cabinet or cabinets that span from floor to ceiling, you want to ensure they fit within the given space while offering functionality. Keep the measurements and placement in mind that best fit your kitchen's flow and provide enough space.
Kitchen Cabinet Quality
RTA kitchen cabinet quality is one of the essential features of renovation. You want to avoid selecting cheap cabinets that don't hold up over time or offer the same performance. Instead, always choose from a company that follows the highest-quality RTA cabinetry features. These can include dovetail drawers, solid wood door panels and door frames, full-extension drawer guides, brush coating and finishes, and more.
If you plan on making an online purchase, you can always request a sample to ensure you'll obtain the quality you desire. The last thing you want is to pick an RTA cabinet expecting quality, only to receive a defective product upon arrival.
Existing Kitchen Layout
While choosing the most beautiful and dependable RTA kitchen cabinets matters, your kitchen layout matters just as much. If you only wish to change your cabinets, they must go with the rest of your kitchen space. Consider the color, material, flow, and sizing.
The last thing you want is to pick a cabinet style and material that doesn't allow for a cohesive kitchen and that throws the entire room off. Instead, take the time and effort to make your RTA kitchen cabinets fit within your existing kitchen layout so that you won't regret it later.
Things To Avoid
While opting for cheaper materials can feel tempting, don't go for RTA kitchen cabinets of veneered particleboard or medium-density fiberboard. Because of their weak construction, they don't offer the same performance as solid wood and other wood materials, as they won't offer longevity and durability.
RTA cabinets, ranging from solid wood, oak wood, pinewood, and more, will offer durability and complement the existing décor within your home. It's especially true when you choose a timeless stain that offers visual compatibility with changing trends and themes.
Shipping and Material Costs
Your RTA kitchen cabinet costs vary depending on the finish, material, completion degree, and complexity. Whether they have flat panel doors and unfinished elements that you can paint yourself to more expensive options, such as hardwood face frames and solid wood doors, kitchen cabinets often have pricing based on linear feet.
Shipping costs vary depending on your order. For example, when you order over $2,000 with us at Kitchen Cabinet Depot, we offer free shipping on most of our orders. Generally, if you order more than one style and ship from different warehouses, you may face additional shipping charges.
Ready-to-assemble wood cabinets come designed to withstand the elements while establishing a sturdy and beautiful appearance. At Kitchen Cabinet Depot, we offer our customers the best quality and beautifully finished RTA cabinets for every home. Since 1977, we have established ourselves as a reliable, family-owned and -operated cabinet refacing business, sharing our passion for cabinetry. Our RTA kitchen cabinets come in various colors and styles to perfectly fit your kitchen layout. If you have any questions regarding our services, reach out to us today so that we can help you get started.
---
overall rating:
my rating:
log in to rate