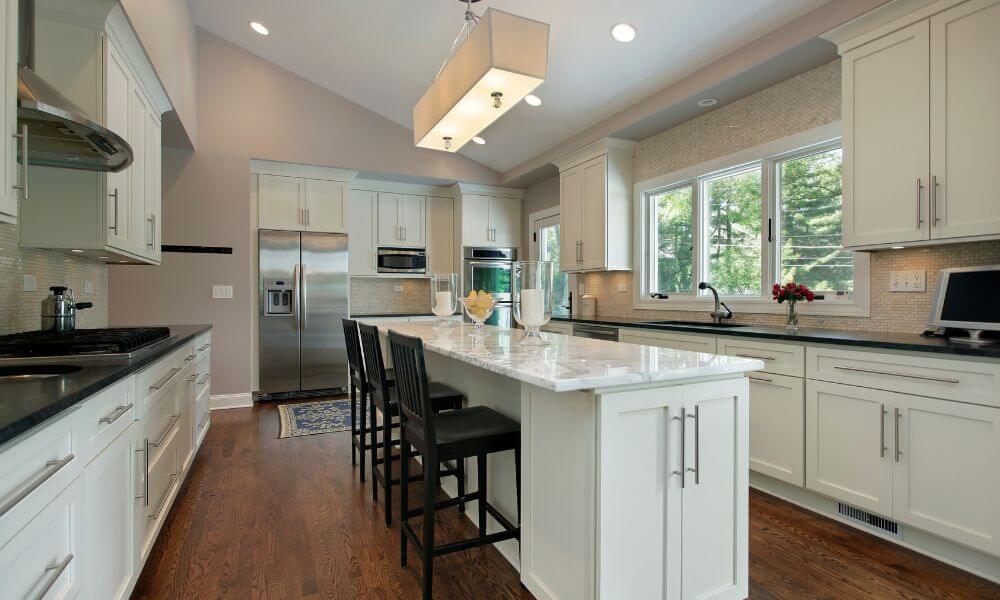 Knowing how your home's value can increase with a kitchen remodel should motivate you to do everything you can to update and modernize yours.
by KCD Blog • July 03, 2023
---
Houses with updated kitchens tend to sell for more. Most families spend a great deal of time there, making it one of the most important rooms in the house. Because it's such an important factor for homebuyers, your kitchen is one of the first places to start a home renovation project.
Let's look at how you can increase your home's value with a kitchen remodel to give you the best bang for your buck.
New Countertops
Despite what you see in a home improvement show on television, you don't need to put expensive quartz or granite countertops to make a good impression. By using tiles or laminates, you can save some money and still get the same visual effects. Avoid blowing your entire budget on countertops because you must cover all your bases.
Updated Cabinets
After checking off the countertops, your cabinets are next in line. Whether you're purchasing new RTA cabinets online or refacing your current ones, a lot of money is on the line with your cabinets. Any quality kitchen remodel should allocate most of the budget toward countertops and cabinets because they make the biggest impact.
A Backsplash
Your refinished cabinets and countertops would look great with a new tile backsplash. If you want your kitchen to seem more put together, you can match it with the countertops and cabinets. Furthermore, the labor cost for installing a tile backsplash will be far lower than the rest of your renovation.
Better Sink
A sink and faucet may not be the most expensive task, but it's one of the most noticeable eyesores if it's not up to snuff. A dirty, outdated sink will bring the rest of the room down a peg, so don't settle on something that's simply OK.
Shiny Appliances
The easiest update to do is to get new appliances. Shiny, shimmering appliances can turn heads and draw interest, potentially deterring eyes from obvious flaws elsewhere.
You can expect to recoup at least half of your investment during a kitchen remodel. Quality, location, and preferences can cause that number to fluctuate, but typically, your home's value can increase with a kitchen remodel, especially if Kitchen Cabinet Depot is there to help. With our great selection of cabinets, you'll be happy with the ROI coming your way.
---
overall rating:
my rating:
log in to rate