by Kitchen Cabinet Depot • June 20, 2019
---
No matter how attractive the kitchen cabinets in a showroom appears, its appeal will quickly diminish in your home if its hardware is of poor quality. Just as you would test drive a car before you buy it, test the kitchen cabinets for yourself.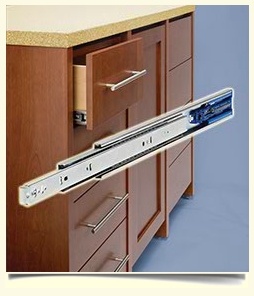 Do the drawers open easily and quietly? Or do they rumble, stick, or tilt down when open them? Are they "full extension"? Do they come all of the way out of the box? Or do they make access more difficult by opening only part of the way?

Features of Various Glides for Kitchen Cabinets
The best-quality drawer glides for kitchen cabinets operate on nylon wheels or ball bearings made of polymer or steel. They also have built-in bumpers to cushion the impact of the drawer front closing against the kitchen cabinet. The top-of-the-line glides allow for full extension, although three-quarter extension glides can be a practical alternative. Higher quality drawers are self-closing when they are pulled out approximately an inch. Load ratings are also important-not all slides can support the same weight.
How Drawer Glides are Mounted onto Kitchen Cabinets
Drawer glides are side, bottom, or corner mounted. The bottom-mounted glides can be used only on face-frame cabinets. They should include a pair of rollers mounted to the face-frame, so that the drawer won't tip when it's opened.
A Few Notable Manufacturers of Kitchen Cabinet Glides
The better kitchen cabinet manufacturers now offer a wide choice of drawer glides as well as hinge types. Accuride of El Monte, California, has earned an outstanding reputation for its ball-bearing side-mount drawer glides. Heavy metal tracks house lubricated rows of steel ball bearings that provide exceptional smoothness, longevity, and weight capacity. Some of Accuride's drawer glides are also available with an acetal polymer ball bearing that will never rust or lose its smoothness. Full extension drawer glides are also available, making it easy to extend a drawer its full length for maximum access and easy cleaning.
Grass America also offers an excellent drawer glide based on a nylon roller and epoxy-coated steel track. Novel features include feather-touch closing, shock absorbing closing, and detents. A number of other manufacturers also offer quality drawer glides for kitchen cabinets.
Nearly any good, name quality glide is acceptable. The technology is global and prolific.
Another consideration is the load-bearing amount. Some cheaper glides can only handle 50 pounds or less. For roll out shelves loaded with heavy cookware, these may fail to provide the expected strength and smoothness of operation over extended periods of time. For extra weight capacity, drawer glides are available for weights in excess of 100 lb., similar to those used on filing cabinet drawers.
---
overall rating:
my rating:
log in to rate