by Kitchen Cabinet Depot • June 08, 2019
---
There are Four Main Types of Kitchen Cabinet Joint
How frames and doors for kitchen cabinets with frames are put together can reveal a lot about the quality of a cabi­net. There are four possible ways. The most accepted-and best-method is the dowel joint, in which two pieces of wood are joined by glue and two dowels, which protrude into the wood.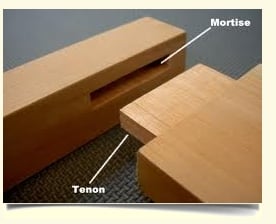 A mortise-and-tenon joint connects the wood with one piece of wood carved out and extended into the other piece of wood. Variations are the tongue-and-groove joint, dovetailed joint, and rabbeted joint. Dowel joints and mortise-and-tenon joints are generally found in expensive wood kitchen cabinets.
Other types of Joints for Kitchen Cabinets
Less desirable is a butt joint, which consists of two pieces of wood placed side-by-side and glued, nailed, or screwed together, so the quality of the bonding is a key issue.
In a lap joint, the sections of wood are machined to overlap each other, glued, and then pinned in place. This type of joint, which is least desirable, is generally found in low-end, stock kitchen cabinets. Plate (or biscuit) joinery is increasingly common for framing as well as cabinet construction.
No matter which method is used, there should be no signs of separation at the joints in your kitchen cabinets.
The box for the kitchen cabinets will most likely be nailed or stapled together as well as glued at the joints. Nails are more effective in the long run than staples. The quality of the core material is an issue, too; you cannot use a nail twice in the same place if it pops in a particleboard core. This isn't the case with plywood.
---
overall rating:
my rating:
log in to rate