by Ray Horsley • October 16, 2020
---
There are two broad categories of kitchen cabinets: face frame and frameless. Traditional cabinet styles are face-frame, in which a solid wood frame between cabinet doors is an integral part of the cabinet's support. Doors and drawers can fit these cabinet fronts flush, partially inset, or overlapping the frame.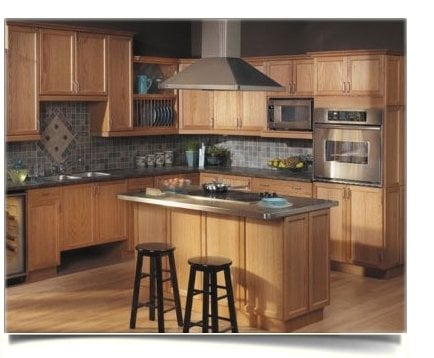 Face-Frame Kitchen Cabinet Construction
The main advantage of face-frame kitchen cabinets, in addition to carrying a traditional design theme, its structural stability. The chief drawback is a slight loss of storage space and flexibility, because of the center frame and door openings that are smaller than they would be in frameless cabinets.
In face-frame kitchen cabinets, exterior hinges expose the frame as edges around doors and drawers. This configuration is referred to as a "reveal." Some face-frame cabinets now have full "overlay" doors and concealed hinges, which does make them look more like European-style, frameless cabinets.
Frameless Kitchen Cabinet Construction
Sometimes referred to as "European style," frameless kitchen cabinets are associated with more contemporary design styles, and the better-quality products are in fact imported from Italy, France, and Germany. Laminate and wood cabinet companies in the United States also manufacture many frameless cabinet lines.
In frameless construction, doors hinge directly to the sides of the kitchen cabinet box and overlay the edges with little or no reveal. The hinges are concealed, inside the box. Sides are usually 5/8 to 3/4 inches and connected to tops, bottoms, and backs that are either the same thickness or thinner. Some frameless doors can open as wide as 180 degrees.
The art of constructing frameless kitchen cabinets is often referred to as "32 millimeters" or "System 32" because holes hinge fittings, cabinet joints, and mountings are set 32 millimeters apart, based on European manufacturing techniques.
The chief advantage of frameless kitchen cabinets is the ease it offers and it's capacity for up to 10 percent more storage than a comparably sized face-frame cabinet.
The major drawback which can be overcome with skilled workers is that frameless cabinetry requires considerably more precision in installing than face-frame. Because there is so little room for error, installation can take longer than for face-frame kitchen cabinetry.
---
overall rating:
my rating:
log in to rate