by Kitchen Cabinet Depot • February 04, 2018
---
Accent kitchen cabinets are just what the name implies. They accent, by contrast, the rest of your cabinets. It's an exciting concept that is catching on fast!
To better understand the concept, think about how you already use "accents" in the rest of your home. In the bedroom, you might use accent pillows on the bed. Maybe you use an antique piece of furniture to contrast a more modern living room set. Perhaps you have lampshades whose texture is in direct contrast to the smooth marble-topped end table it sits on. You may have a multi-colored Persian area rug that contrasts very well on an otherwise uninteresting floor.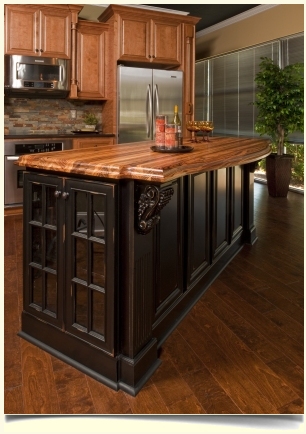 Contrasting colors, textures and sizes is a very well established method used to add interest to otherwise humdrum spaces. Without contrast, rooms can become boring and uninteresting.
This is true of any room. The kitchen is no exception.
In this room, our choice of elements is limited. The major elements are the walls, cabinets, appliances, countertops, and floor. Typically, these items represent one element each. But, what happens when you break up one of these traditional spaces with multiple styles or colors? You get contrast! You get interest!
Here is a good example. You may want a nice warm stain for your maple cabinets and a hardwood floor. The problem is, the floor will probably blend too closely with the cabinets. You can overcome this blandness. Simply adding a dark accent island will instantly add exciting interest.
Summing it up
Contrast Adds interest.
Colors, textures, and size are good elements to add contrast with.
Accent cabinets are cabinets that contrast the main cabinet style.
---
overall rating:
my rating:
log in to rate