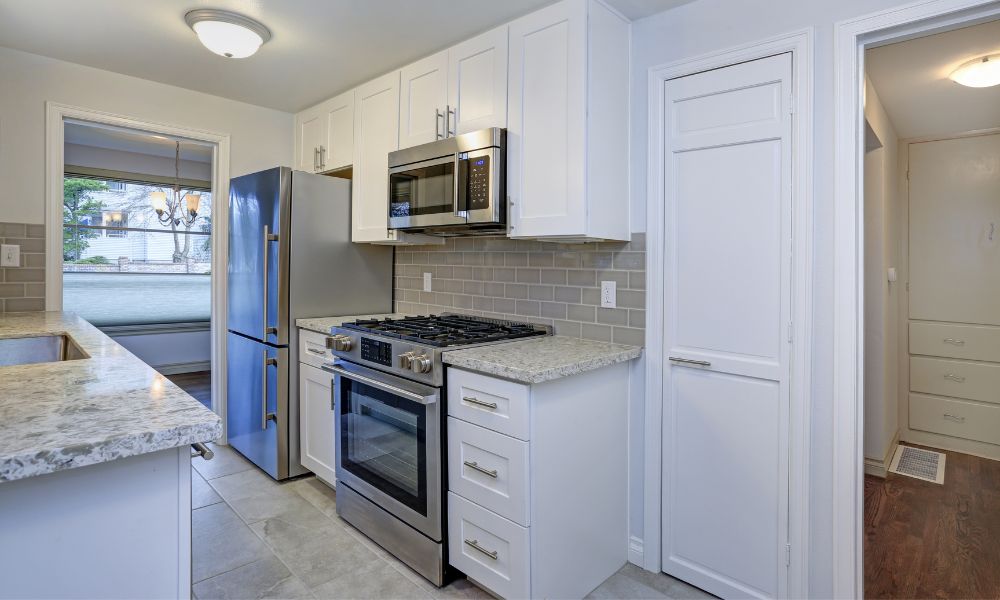 The five reasons to consider shaker cabinets for your home prove the benefits of modern cabinetry go far beyond the aesthetic appeal you desire.
by KCD Blog • May 31, 2023
---
Many folks have the same fixtures from when they bought their home. Unfortunately, interior decorations can go out of style, leaving you with a home far behind the times. If this is the situation with your kitchen cabinets, you should consider these five reasons for adding shaker cabinets to your home.
Best Bang for Your Buck
Shaker cabinets provide the most value over other cabinetry options because their minimal design allows you to focus on the wood's quality and longevity.
Installing shaker cabinets is simple and affordable. Consider the high resale value while setting your price range. Although these cabinets are cost-effective, don't let that fool you into thinking that they're low quality. Selecting shaker cabinets for your kitchen is a wise financial move.
Low-Maintenance & Easy To Clean
Kitchen cabinets with decorative crevices are a real pain to clean. Fortunately, you won't have that issue with shaker cabinets. The square corners and clean lines make them easy to clean.
If you're hosting a get-together, you won't have to waste time dusting and polishing every little detail before guests arrive. All you need is a soft cloth, warm water, and a drop or two of mild dish soap for painted cabinets or your favorite furniture polish for stained cabinets. Minimal maintenance needs make shaker cabinets perfect for your kitchen!
Opens the Kitchen
Turn to shaker cabinets to answer the call for a simple, uncluttered aesthetic. The clean lines of this classic design really make the difference.
Your kitchen will automatically seem more open with shaker style cabinets. These cabinets will provide the illusion of additional counter space even if you don't have much room to work with.
Shaker Cabinets Go Well with Anything
The adaptability of shaker cabinets is one of its primary selling points. This flexibility complements almost any home appliance, flooring, backsplash, or countertop. Found the perfect hardware but can't decide which cabinets to put it on? You can't go wrong with shaker cabinetry! Opting for shaker cabinets allows you to keep it natural for a farmhouse feel or update it with paint and stainless-steel knobs. You can achieve almost any style with shaker cabinets.
Increase the Resale Value of the Home
The elegance of shaker cabinetry is striking. The flat center display and elevated frame draw attention without overpowering. Shaker cabinets are timeless, making them suitable for both contemporary and classic kitchens. It's easy to see why they're in such high demand for homeowners, remodelers, and interior designers.
Increasing your home's resale value is particularly important if you plan on selling your home. An interested buyer will often gravitate toward the kitchen during the grand tour; installing shaker cabinets can increase your home's market value.
These five reasons to consider shaker cabinets for your home prove that shaker-style cabinets are worthy investments, especially when you rely on Kitchen Cabinet Depot's top-tier options. Peruse our various styles, colors, and sizes to find the perfect match for your kitchen today!
---
overall rating:
my rating:
log in to rate