by Ray Horsley • October 15, 2018
---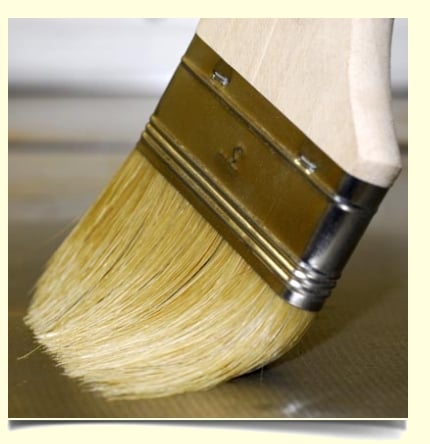 A polyurethane varnish finish can cut down on the wear and tear of kitchen cabinets, help keep them looking new and extend the life of the cabinets. Polyurethane works best on unfinished wood but can also be painted directly onto painted surfaces.
When you apply polyurethane varnish, you're actually sealing it in plastic. It is a plastic so tough that hardly anything can penetrate it. In addition to this exceptional durability, polyurethane is easy to put on; fairly fast-drying; super-resistant to chemicals and water; and available in low-gloss, satin, and high-gloss finishes. It also comes in oil based and water based.
Preparation before applying polyurethane to kitchen cabinets
Before applying polyurethane, complete the preparation steps for either stripping paint or preparing for new paint. These steps may include using paint remover, sanding and filling and sealing. If you've applied a stain or wood filler to the surface, make sure it is absolutely dry before adding the polyurethane.
Apply either oil-based or water-based polyurethane with a brush, lambs-wool applicator, or lint-free cloth. Latex polyurethane is easy to use with a sprayer; oil-based poly tends to clog up the works, so you're better off doing this by hand.
All types of wood require at least two coats of oil-based polyurethane. The first coat works as a primer and sealer; the second serves as a finish coat. With water-based polyurethane, a third coat is recommended, because the finish wears away fairly quickly. Sand between coats if dust or lint gets into the wet finish. Sanding also makes it easier to tell where you applied the subsequent coat.
Troubleshooting polyurethane finishes on kitchen cabinets
When you add the finish - both coats - keep the work surface between you and a light (if possible). In this way, you will see missed spots as the finish is applied. Missed spots are caused by poor penetration into the wood or inadequate application. They leave little dimples in the finish, and they're almost impossible to touch up after the material has dried.
Not all polyurethanes are clear. Some are colored to resemble pigmented shellac. With these, you'll usually need to apply several coats of the finish to reach the color tone that you want on your kitchen cabinets. Each coat will produce a deeper tone; so try a test run on a scrap of the same material to determine how many coats you will need.
If you reach the color tone before achieving the sheen you want, let the surface of the cabinets dry thoroughly, and then apply clear polyurethane finish to complete the project. However, the clear finish will slightly change the color tone underneath.
You can apply a clear polyurethane finish over paint. Don't expect the polyurethane to hide any defects in the material. In addition, if you are painting your kitchen cabinets solid white, you must understand they will yellow somewhat over time.
Low-gloss polyurethanes are less durable than high-gloss products. Use low-gloss finishes as top coals to cut the shine off high-gloss coatings underneath. High gloss is recommended for applying to kitchen cabinets.
Important note

As with varnish and shellac finishes, dust and dirt control is critical with polyurethane. Cover all ducts carrying air currents blowing from heating and cooling. Avoid doing anything that would cause dust to become airborne, especially sweeping the floor just before the finish to the kitchen cabinets is applied. Use a tack cloth to remove dust from the work.
---
overall rating:
my rating:
log in to rate