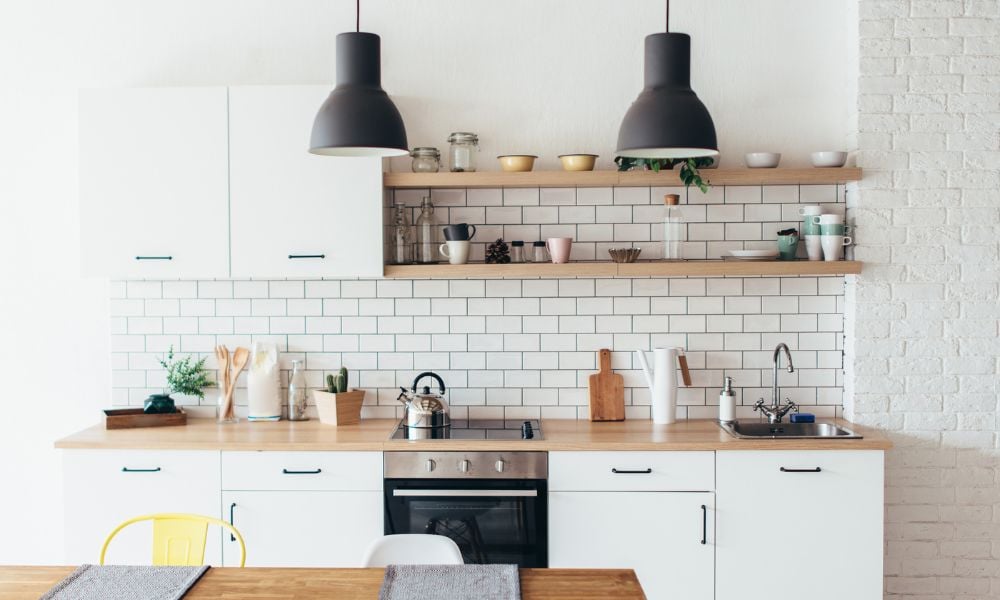 Following these simple design tricks for making a smaller kitchen appear larger makes the best out of an unfortunate situation when space is at a premium.
by KCD Blog • August 04, 2023
---
Your dreams of designing an impeccable kitchen are much more challenging when your canvas is the size of a small box instead of something wide, long, and luxurious. But with a few design tricks for making a smaller kitchen appear larger, your creativity can shine bright. Learn expert tips on how to open up a cramped room.
Minimalism
Even the smallest room can feel larger when you embrace minimalism. Every subsequent tip after this will involve minimalism in some capacity, starting with decluttering the kitchen.
Some folks think decluttering begins and ends with throwing away papers and hiding large items. While those are certainly the first steps, you should also take stock of the things you just aren't using anymore. Appliances that make pasta or kitchen tools you use only twice a year have no home on the countertop of your new and improved kitchen.
Anything else that acts as a decoration can also leave the kitchen. If you discover you have room for it after the process is complete, consider putting it back. But until then, it's got to go.
One Deep Sink
The sink is the nucleus of a stylish kitchen. It's safe to assume that the kitchen draws the attention of most guests and interested buyers first. While having a double sink in a large kitchen would be nice, you must make the best out of a cramped situation.
A single sink can be as fashionable as it can be practical. A double sink in a small kitchen will take up an inordinate amount of counter space, leading to clutter. An ideal single sink can offset the lack of width with additional depth. You have the ideal kitchen sink if it's deep enough to clean pots and pans while maximizing counter space easily.
Integrated Appliances
You will run out of room quickly after you plug in a range and refrigerator. Instead of opting for appliances sticking out and taking up valuable real estate, integrated appliances sit flush with the wall, giving you more room to maneuver.
Integrated appliances make your design seem more put together and professional because of their streamlined appearance.
The downside of integrated appliances is their permanency. Although flush furnishings provide a certain degree of refined simplicity and space efficiency, you may, at some point, desire to rearrange the layout of your room. The integrated appliances make it nearly impossible to rearrange things differently.
Fun With Shapes
In both the visual arts and interior design, geometric forms are trending upward. Anything in your kitchen with a geometric design helps open the kitchen. Don't be afraid to use patterns as an accent but remember that too many patterns might make the room appear chaotic and cluttered.
Kitchens with geometric patterns that lead the eye upward or along the room's length offer the illusion of height and length. Even the smallest room may seem more spacious with the help of specific tiles that work as an optical illusion.
Using Natural Light
You can use one of nature's greatest resources to aid you in opening up the kitchen. Letting in the sun's natural light will make any space look much larger, so make use of unadorned windows to let the sun shine bright in the kitchen.
Drapes and blackout curtains might be nice for the bedroom, but shielding the kitchen from the sun will make the room dark and dreary. Sheer curtains are a reliable and stylish option that lets in the sun while offering some privacy from the neighbors.
White Out
White kitchen designs are the best option for making a small kitchen seem more open and airy because of their simplicity and effectiveness.
Although dark accents and omnipresent gray have been all the rage lately, classic white will never fail to hit the mark. It's a fantastic light reflector and opens up a world of customization options, including various textures and hues that can be incorporated into the countertop material, backsplashes, and other accessories. A small pop of bright color will warm up a white room and add visual interest to the overall design.
White's versatility allows it to complement both contemporary and traditional decor. It's neat and serves as a blank slate on which to build the design of the remainder of the room.
A Look Into the Mirror
Although it is common knowledge that mirrors visually enlarge a space, many people fail to realize they can achieve the same thing in the kitchen. When a massive mirror covers a whole wall, the reflection of a table or kitchen countertop is particularly eye-catching.
To get the same effect, you can install mirrored backsplashes or cupboards. Mirrors aren't the only reflective surfaces that may make a kitchen seem more spacious. You can also consider glossy finishes, stainless steel appliances, and glass tiles to deliver the same effect.
Open Shelving and Flat-Panel Cabinetry
Choose a wall of open shelves over your sink or as an accent storage solution; everything you need will be within easy reach. You won't have to worry about fumbling about or damaging objects by trying to reach into tight spaces. Having everything so plainly visible in the kitchen makes guests feel at ease and the open design works with styles both traditional and modern.
It's best to store similar items together when arranging your open shelves. Group place settings together for a simplified appearance.
Not every kitchen item can be stored in open shelving, however, as that would send you right back to clutterville. Flat-panel cabinetry presents a uniform, minimalistic aesthetic for items you'd rather keep behind closed doors. Their clean look is appropriate for any kitchen design, and the unadorned palette allows sleek hardware additions to take center stage.
Do Away With Personal Items
While adding elements that represent your character may make the kitchen seem more homey, your children's artwork may be better suited to family living spaces and bedrooms rather than on the fridge in your newly designed kitchen. Choose your most treasured decorations and put them on a shelf, then frame your most prized art pieces.
Instead of posting notes and magnets all over the fridge, you can use a stylish pinboard, chalkboard, or mesh noticeboard to keep everything in one place.
These expert design tips will make a smaller kitchen feel larger, and Kitchen Cabinet Depot's flat-front kitchen cabinets will be a great addition to anyone's minimalistic design overhaul. They economize on space and put a contemporary face on your storage solutions. Sleek simplicity has never been so affordable!

---
overall rating:
my rating:
log in to rate