by Kitchen Cabinet Depot • September 07, 2020
---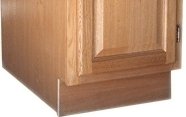 That small area under the kitchen cabinets where your foot goes is called the "toe space" or "toe kick". Some homeowners view this area as wasted space and install drawers and even special heaters. The housewife typically regards the toe space under her kitchen cabinets as a place that is difficult to clean. There are several options for these spaces.
The toe space (also called a toe kick) needs attention too when installing kitchen cabinets. The toe space is made by a separate, recessed platform that supports the kitchen cabinet. American-made face frame kitchen cabinets and most frameless have a 4-inch high, 3-inch deep space. European kitchen cabinets often have tall toe spaces that are 5 inches to 9 inches high in order to cover the adjustable legs that are standard features in cabinets that are built to be movable. A tall toe space means less interior kitchen cabinet space., unless the toe space itself can be designed for storing platters, a pull-out skid or ladder, or other flat items.
Toe spaces Under Kitchen Counters are Twentieth Century
A continuous recessed toe space would have been nonexistent in a residential 19th-Century kitchen. It isn't that people were built any different back then, It's just that they worked at tables and not countertops. And there was plenty of space between table legs. If you prefer tradition-style cabinets, you have several options for finishing the cabinet bottoms. For example, drop the door stiles to the floor and leave an opening between the resulting "legs". If curves are in your bag of style tricks, radius the corners of the opening between the stiles as if the kitchen cabinet were an individual piece of furniture.
But consider adding a dark-painted panel 3 inches or 4 inches from the face of the kitchen cabinet, otherwise, the space under the cabinet will be a magnet for dust, errant garlic cloves, and other kitchen debris. You could also do without a toe space and increase the countertop overhang to 4 inches from the usual 11/2 inches. You'll want full-extension drawer guides if you pull out the countertops this far.
Toe spaces can provide space for heat and air registers, as well as ductwork to a central system, or even for installation of individual toe space heaters. The blowers in toe-space heaters tend to be noisy, so research the options before completing the kitchen cabinet plan. The toe space also acts as a bumper against over-zealous mopping and vacuuming. If you opt for no toe space, consider adding at least a 4-inch tall base trim to your kitchen cabinet. This detail can also apply to the sides of the cabinet, where it's not common to have a toe space. Here, a base trim provides a natural paint break or a change of material that allows for easier repairs if the bottom of the cabinet is damaged by beast or man.
When remodeling kitchen cabinets, use a pry bar or a wide putty knife to peel off vinyl cove molding from the toe kicks. If the toe kicks are trimmed with quarter-round molding, pry up the molding with a pry bar. Number the pieces if you plan to re-use them.
---
overall rating:
my rating:
log in to rate