by Kitchen Cabinet Depot • August 14, 2019
---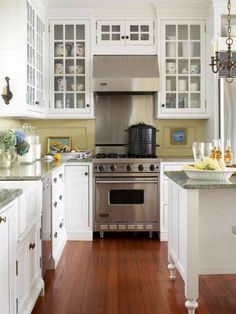 Romance. Warmth. Beauty. It's what most people envision when they think of the Victorian era. From detailed garments and gowns to ornate furnishings, few time periods instill such a feeling of splendor. Authentic Victorian kitchen cabinets were a bit of a disappointment in terms of luxury. After all, the kitchen's inhabitants consisted of servants – and perhaps a few mice. However, the Victorian era can inspire you to create a culinary haven – without heating one ounce of coal.
Authentic Victorian kitchens usually housed stone slab or unglazed tile flooring. While that option is still available to homeowners today, the current flooring market also offers ceramic tile that mimics natural stone. For true Old World warmth and charm, hardwoods are beyond compare. Hand-scraped genuine wood boards, are billed as "the perfect combination of history and 21st Century engineering," and they just might be the perfect combination of charm and practicality for your Victorian kitchen.
Functioning antique stoves from this time period are available through qualified technicians. All the ranges can be converted to gas or electric. Of course, traditional appliances also have their place in the Victorian-inspired kitchen. Appliance panels can be used to help dishwashers and refrigerators blend with the cabinetry, leaving visitors to focus on the Victorian-inspired accessories.
Once the floor is laid and the appliances are picked, it's time to put the final Victorian touches on your kitchen. The ceiling is the perfect place to start. Pressed tin ceilings are more than beautiful; they're durable, too. They come in a variety of patterns that can be painted to reflect the room's color scheme. Lincrusta wall coverings are another option to add Victorian charm to your kitchen cabinets. These linoleum-like wall coverings are embossed with decorative patterns that can be finished to look like wood, metal, leather, plaster and other materials that compliment your design scheme. When it comes to countertops, the rugged elegance of granite and tile works best, especially when paired with fine wood cabinetry. White is a popular color; however, dark woods help to create an Old World ambiance. While you won't be able to claim your kitchen is authentic Victorian, the design elements you have borrowed from the era will certainly leave you creating meals in splendor and charm.
---
overall rating:
my rating:
log in to rate