by Kitchen Cabinet Depot • August 10, 2020
---
Once you've selected the types of kitchen cabinets you want, the next step is to determine how they will be configured to fit your floor plan.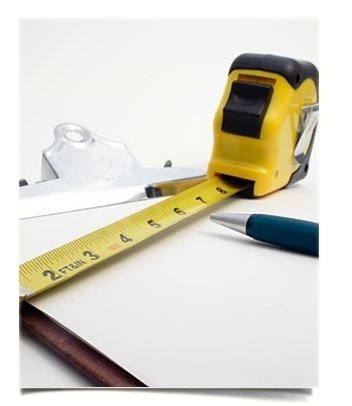 The number and the measurements of the cabinets you will need in your kitchen depend on a variety of factors. The most important will be the location of and the relationship between key work centers in the kitchen. Placing the sink, refrigerator, cooktop, ovens, and microwave oven come first; their placement will determine where the kitchen cabinets can be situated.
All kitchen cabinet measurements should be double-checked against the manufacturer's specifications for the appliances you select. Otherwise, there is a danger that they won't fit properly without major adjustments during installation or won't fit at all without ordering a new kitchen cabinet component.
Individual Needs for Kitchen Cabinets
Second in importance is the degree of singularity of your plan and your individual needs. Unless your plan is highly unusual, you probably will be able to use various configurations of stock and semi-custom kitchen cabinets to provide storage that is efficient and attractive. Custom-made kitchen cabinets, using other-than-standard widths, heights, and depths is required only for an installation that is unique or in which standard height countertops and wall cabinets cannot accommodate the needs of the very tall or very short cook or household member with physical limitations.
Personal Taste in Kitchen Cabinets
Third, you must know your own taste. Do you like open shelving at the end of cabinet runs? Do you like the visual interest of a run of kitchen cabinets with varying depths? Do you prefer a sleeker look with built-in appliances? Do you prefer drawers for pot storage under the cooktop? Do you want shelves or pullout drawers behind cabinet doors?
Stock kitchen cabinets are planned on the assumption that they will be accommodating standard-height work surfaces and appliances. The standard countertop is 36 inches high, which is comfortable for the "average" person and accommodates standard dish­washer, oven/cooktop, and trash compactor installations. Of course, plans can be drawn and fixtures installed for those who prefer higher or lower work-surface heights.

Typical Kitchen Cabinet Dimensions
Base cabinets - typically 24" deep (also 12", 15", 18") and 34 1/2" tall (countertops add 1 1/2" to make the finished height 36").
Upper/Wall cabinets - mostly 12" deep (also 15", 18", 24") and 12", 15", 18", 24", 30 " (typical), 36", 42" tall.
Combinations, like placing base cabinets back-to-back to form a 4' wide island is also typical.
Some 24" deep base cabinets may include doors on both the back and front for special applications.
---
overall rating:
my rating:
log in to rate