by Kitchen Cabinet Depot • October 23, 2019
---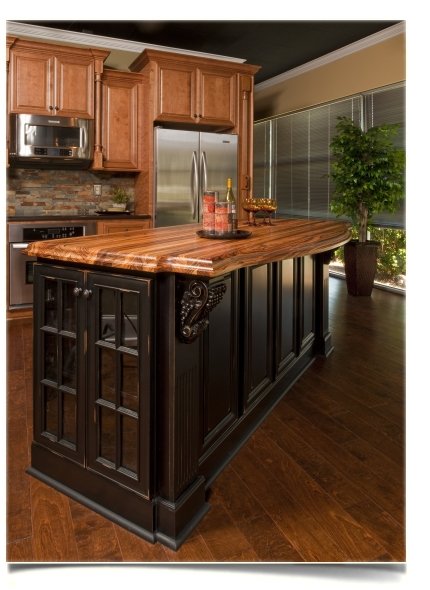 Your choices of kitchen cabinet styles don't end after you have decided whether you like face-frame or frameless construction. Both types are available with a dizzying array of door styles, finishes, colors, and door pulls that have a great impact on the cabinets' appearance. With different stains, hardware, and accessories, the same kitchen cabinets that create a contemporary, tailored version of a country style can also set a very traditional tone. Choices in materials and styles run the gamut from contemporary plastic laminates and wood veneers to traditional hardwood.

Kitchen cabinet styling can be:
Simple
Carved
Molded
Made with glass inserts.
Currently enjoying popularity are English Country-style kitchen cabinets, recognizable by the decorative use of carved wood, fretwork (cut-out patterns may be leaves, flowers, fish, or abstract), and open plate racks. Painted white, they can lend a touch of warmth yet still seem appropriate in an otherwise contemporary setting.
Newer to kitchen cabinet styles in North America are Scandinavian cabinets, whose elegant simplicity recalls American Shaker style.
The late 1980s saw a return to the use of glass mullion doors, which give an old-world quality to the kitchen and allow you to display china, glass, and col­lectibles. Glass doors add charm and visual appeal by breaking up long runs of solid wood or laminate doors, and they work beautifully with any door style.
Selecting Kitchen Cabinetry
Kitchen cabinet manufacturers also offer a number of elements besides base, wall, pantry, and appliance cabinets that help set the tone of the kitchen. Among these are range hoods (often elaborately carved), matching panels for appliances, tambour-door appli­ance garages, open shelving, glass door fronts (with mullions or without, with beveled, frosted, leaded, or stained glass), vertical dish racks, wine racks, spice racks, valances used between cabinets over windows, moldings, and plate rails above wall cabinets.
In traditional kitchens, attention to detail and design continuity often leads to the use of moldings. Employed above wall cabinets (crown molding), on cabinet doors, chair rails, and baseboards, molding is available natural, pre-painted, or pre-stained, or in vinyl wrapped with a wood-grain finish.
If you have some woodworking skills, you can also create your own customized look in a kitchen cabinet style by using standard doors. Order a simple wood overlay door, then apply a molding purchased from a lumberyard. If you have ordered unfinished wood cabinets, you can stain or paint the doors to match them.
---
overall rating:
my rating:
log in to rate