by Ray Horsley • March 12, 2020
---
The kitchen is a room you tend to spend a lot of time in, especially if you are the main chef in your household. Make sure you are comfortable with your chosen kitchen cabinets color scheme because you are surrounded by it. Bright, invigorating color schemes can boost energy levels when you have a lot of cooking and cleaning to get through.
Because kitchen walls tend to be dominated by cabinets, countertops, and the floor, treat these elements as the starting point for your color scheme.
The colors you chose for your kitchen will depend on the properties and textures of each of the surfaces. Glossy surfaces will reflect more light and look different compared to low sheen, painted walls. So, it is important to be careful when trying to match colors in different materials. Sometimes it is better to select a tone lighter or darker rather than trying to create an exact color match. But, don't overdo color matching. You could create a monotone look with very little variety. Varied shades of the same color and complementary colors will help bring more interest to the setting. Selecting painted kitchen cabinets may be just the thing to break up the monotony.
Summing it up:
Pick colors you are comfortable with.
Bright colors boost energy levels.
Start with cabinets, countertops, and floors.
Surface textures affect color matching.
Sometimes it is better to go lighter or darker instead of an exact match.
Varied shades of color and complementary colors help create interest.
Painted cabinets can break up the monotony. For example white cabinets.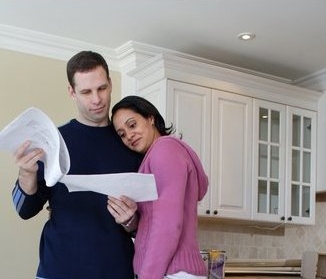 ---
overall rating:
my rating:
log in to rate