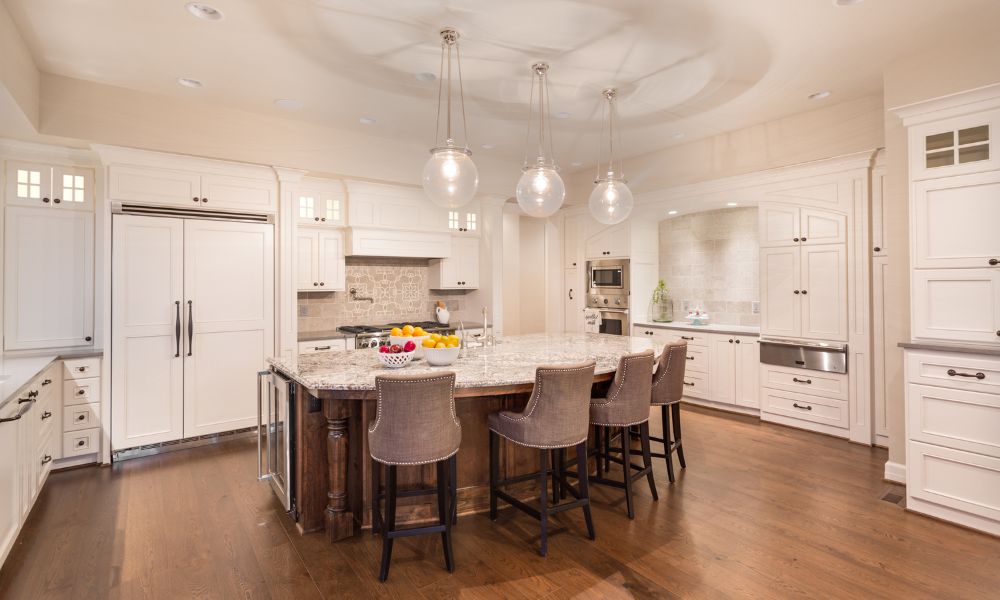 When you renovate your kitchen, you want everything to look cohesive and fresh. Here is our guide to matching your kitchen components with ease.
by KCD Blog • April 21, 2023
---
As you change your kitchen space, there are many aspects to consider that will make it cohesive and seamless without going overboard. Here's our guide to matching kitchen components during a kitchen renovation.
Basic Kitchen Components
As you begin to plan out your kitchen renovation, there are different components to consider throughout the entire process. Your appliances, flooring, cabinetry, and countertops play a considerable role in how your kitchen will look.
Appliances
Every kitchen has appliances placed throughout its layout. Most kitchens contain ovens, refrigerators, dishwashers, and microwaves. However, some homeowners add extravagant appliances, such as wine fridges, bread makers, air fryers, espresso machines, and more, to entertain guests.
When renovating your home, seamlessly matching your appliances can make it look more effortless and less abrasive. If your appliances share the same colors or materials, you can make that the focal point throughout your kitchen. Whether you have preexisting appliances or plan on replacing them with more modern technology, it's crucial to keep your kitchen cohesive and balanced.
Kitchen Cabinets
Kitchen cabinetry can often determine the mood of the entire space. For instance, if you have a historical home, your kitchen cabinetry might be as old as the home itself. On the other hand, newer and more modern houses often have sleek, minimalist cabinet designs for a seamless-looking kitchen space. Cabinets also come in various types of wood and a multitube of finishes, giving off a specific mood.
As you update your kitchen, swapping your kitchen cabinets can immediately transform the look and feel of your kitchen space. If your cabinets have been falling apart or don't offer the space you desire, switching them for newer ones can feel like a relief. Whether you decide to keep your current cabinets or replace them, you can easily make them the focal point of your kitchen renovation.
Kitchen Sink and Countertops
Your kitchen sink can come in many different styles, materials, colors, and finishes. For instance, traditional kitchens have stainless steel sinks and faucets for easier cleaning and matching, while modern kitchens have copper, nickel, and other trendy materials for a flashier, stylish layout.
Furthermore, kitchen countertops can tremendously influence how your kitchen feels. Some popular styles include quartz and natural stone materials, ceramic tiles, laminates, and solid-surface materials. They can make your home feel either cozy and comfortable or exciting and energizing.
Kitchen Flooring
Kitchen flooring can easily make or break your kitchen style. There are a handful of different flooring types to choose from, such as ceramic tile, vinyl, and hardwood. However, when renovating your kitchen, there are many ways to make your flooring look beautiful.
Perhaps you live in an older home, and the ceramic tile flooring has started to fall apart. You can either replace the tile with a newer, updated style or change it to a different material entirely. Furthermore, depending on the types of hardwood flooring you have, you can either refinish it a couple of times or replace the flooring completely for a fresh start. Changing your flooring can have a tremendous impact on the mood of your kitchen.
General Rules for Kitchen Components
There are many different kitchen components, and matching them during a renovation doesn't have to be complicated. Luckily, here are a couple of general rules to follow to make it easier.
Start With Your Countertops
Your kitchen countertops and backsplash are often the focal points of the kitchen. Choosing a countertop first can provide a helpful starting point for building your dream kitchen.
You can pick from many different countertop materials, such as quartz, granite, and marble. Ensure you choose a unique pattern with beautiful accent colors that you can use throughout your kitchen. If you're struggling with choosing a kitchen color you like, you can start with your countertops for inspiration.
Choose a Couple of Colors
If you want to keep your kitchen cohesive, choosing a few key colors can keep everything looking seamless. Your kitchen color scheme should consist of three different colors that help either contrast or complement each other for heightened visual appeal. It's typical for a traditional kitchen to have more neutral colors for softer contrasts, while modern kitchens have more stark colors.
When choosing your kitchen colors, you want to stick with one primary color and two complementary accent colors. You can also have one contrasting and two complementary colors to add playful color pops to your kitchen space. Using the color wheel can help you find which colors you like the most and what colors complement or contrast each other best.
Match Your Cabinets With Your Countertops
If you plan on replacing your kitchen cabinetry, try having them complement the existing countertops. Countertops can have multiple colors throughout their design, especially natural stone ones, so take those colors into consideration. If you have darker countertops, golden or white wood can create an eye-catching contrast.
White cabinets match most countertops. Warm, creamy white cabinetry can make a kitchen feel cozy and inviting, while cool-toned countertops give off a sleek, stylish feel. See what colors your countertops already have, so you can choose a cabinet that contains colors, styles, and hardware that complement your countertops.
Accessorize Your Kitchen
What makes a kitchen redesign so fun is the ability to make it look completely new. However, the main elements of your kitchen should change very little over time. If you have cohesive cabinetry, flooring, and countertops, you can personalize your kitchen space further by incorporating accessories and decor.
You can add pops of colors, textures, and styles to make your kitchen feel more personal and tuned to your interests. For instance, if you have a neutral-toned kitchen with stainless steel appliances, you can add small colorful accessories, such as wall art, small window sill decorations, houseplants, and countertop decor to give it more life.
Renovating your home involves installing reliable products that last a long time. At Kitchen Cabinets Depot, we offer ready-to-assemble cabinets that refresh your kitchen space while giving off a minimalist feel. Our beautiful RTA kitchen cabinet store carries Shaker-style cabinetry in various colors and types to perfectly fit your kitchen layout. If you have any questions regarding our ready-to-assemble cabinetry, contact us today.
---
overall rating:
my rating:
log in to rate