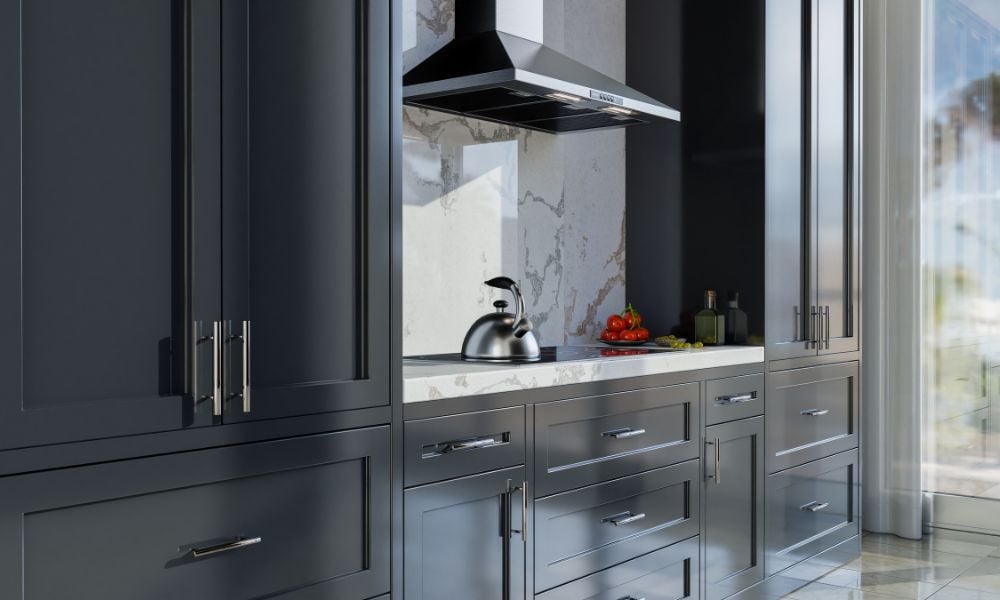 There are many reasons why homeowners adore shaker cabinets in their kitchens and bathrooms. Here's a homeowner's guide to traditional shaker cabinet features.
by KCD Blog • March 28, 2023
---
Home design trends and styles fade in and out of relevancy, and few designs stand the test of time. However, if there's one home feature that every home can incorporate without giving into the most current trend, it's shaker cabinets.
Shaker cabinets have been part of home design for the last few centuries and are a staple in the average home. However, what exactly are shaker cabinets, what is their history, and what makes them stand out? Let's review a homeowner's guide to traditional shaker cabinet features and what makes them unique.
What Are Shaker Cabinets?
Simply put, shaker cabinets often reside in kitchen spaces but also can fit into bathrooms and utility rooms. There are five pieces to a shaker cabinet: one recessed center panel framed by four raised pieces. This leaves the middle wholly flat and devoid of ornamentation, which allows for a simplistic, clean appearance.
Without the need for complex design elements, shaker cabinets fit into nearly every kitchen style you can think of, from traditional to modern layouts. In addition, they offer a timeless, unlimited variety of style choices, as solid wood shaker cabinets don't go out of style.
Traditional vs. Skinny Cabinets
So, what are the differences between traditional and skinny cabinets? Firstly, standard shaker cabinets have stiles, the vertical parts of the frame, and rails, the horizontal part, which ranges between 2¼ inches to 3½ inches wide. For recessed shaker panels, there is a step of about one-fourth inch down, leaning more towards a traditional style.
A skinny shaker cabinet would add a more modern touch to your kitchen. Skinny or slim shaker cabinets have stiles and rails with a thinner design, often shrinking to three-fourths of an inch, allowing for much wider recessed panels. In addition, designers often combine skinny and shallow shaker cabinets to create more modern and contemporary looks.
Brief History of Shaker Cabinets
Shaker cabinets have a unique, rich history. Shaker cabinets originated from a religious group called the Shakers, referred to as the United Society of Believers in Christ's Second Appearing, that split from the Quakers in the 1700s. The Shakers religious group was an association created in Manchester, United Kingdom.
In 1780, the Shaker community immigrated to the United States, becoming famous for their architectural knowledge, technological innovations, and exceptional furniture-making expertise. Their furniture didn't include intricate designs and embellishments, emphasizing clean lines and functionality. As early adopters of power tools in the late 1800s, the Shakers built and sold furniture and cabinets, spreading throughout the United States, and since has become a timeless style sold globally.
Key Features of Shaker Cabinets
Shaker cabinets have a popular reputation in home design due to their timeless design, fitting seamlessly into many kitchen designs and surrounding furnishings. In addition, due to their remarkable quality and design, they make for an excellent transitional design during remodeling and redesigning the home. So, let's look at some features that make shaker cabinets unique.
Top-Class Craftsmanship
Firstly, shaker cabinets reflect their early design roots, initially designed for simplicity and incorporating skilled craftsmanship that made them stand the test of time. The Shaker community created the shaker cabinet design and used their innovative furniture-making skills to make stand-out, long-lasting cabinetry that needs no changes.
Shaker cabinets often incorporate beveled edges and drawers that can be inset, fully overlaid, or partially overlaid. This allows for cabinet designs for a modern, simplistic design that lasts.
Solid Hardwood Composition
If there's one feature that makes shaker cabinets recognizable, it's their solid wood composition. Most of the shaker-style cabinet designs come manufactured with high-quality, durable hardwood. Shaker cabinet doors also come with plywood or solid wood manufacturing.
Furthermore, the solid wood shaker cabinet makes natural and light stain finishes ideal for modern to traditional styles. They make it easy to complement the room's existing layout and allow friendliness to the eyes.
Simplistic Design
There's a reason why shaker cabinet design hasn't changed much since its inception. The elegant and timeless style of the shaker cabinet offers a simple and unique appearance that goes with many home décor styles. They're immediately recognizable due to their light finishes, inset doors, and recessed center panels.
What Makes a Transitional Shaker Cabinet?
A transitional kitchen is often subjective, as many home designers have an interest in transitional styles, including cabinetry. As such, modern kitchen designs began to lean towards a blend of traditional and contemporary elements without looking overwhelming or gaudy.
Transitional shaker cabinets often have a unique blend of retro and modern features in one design, making any kitchen look timeless and beautiful. It adds depth to your kitchen space and allows homeowners to change up their décor however and whenever they choose.
Shaker Cabinet Finishes
When homeowners have chosen their traditional shaker cabinet design, they have a variety of finishes to choose from. Firstly, you can choose painted finishes that incorporate paint on cabinets to give them an exquisite, sharp appearance while allowing them to retain their recessed, squared edges, enabling them to look more intrinsic. You also have burnished finishes, when previously painted cabinets get burnished features to give them an aged appearance.
Furthermore, thermofoil finishes use vinyl wrapping to enhance the durability of shaker cabinets. They get applied to medium-dense cabinet areas at high-temperature heating and intense pressure settings. Lastly, polyurethane finishes give cabinets a rustic, earthy feel. It's a matte minimalist cabinet finish that enhances the appearance of solid wood frames, giving it a transitional design.
Reasons Shaker Cabinets Stand Out
There are many reasons why shaker cabinets have found popularity in everyone's kitchens. Firstly, their clean line design makes them versatile for styling and theming. Homeowners can style shaker cabinets with different colors, styles, materials, and textures for the perfect kitchen space. Furthermore, shaker cabinets pair nicely with a variety of hardware designs.
Secondly, shaker cabinets make for easy cleaning, as they consist of fewer design details. This allows for simple dusting and wiping them down. Furthermore, homeowners can switch from farmhouse to modern without getting whiplash because of their transitional appeal. Lastly, shaker cabinets have a timeless appeal that has existed for centuries and will never go out of style.
When you're ready for a change, we at Kitchen Cabinets Depot offer high-quality ready-to-assemble cabinets that make every home look beautiful. Our RTA shaker cabinets offer a laidback, functional, and simple design for any kitchen space, making for easy installation whether you plan to DIY or hire a professional. If you want to know more about our cabinetry, our experienced team will gladly help you.
---
overall rating:
my rating:
log in to rate