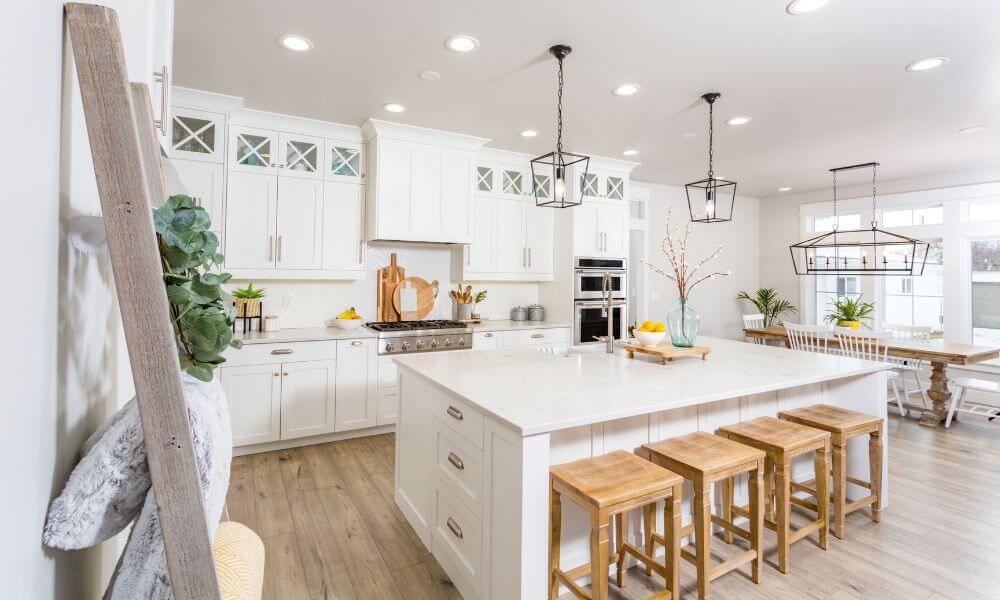 by KCD Blog • March 08, 2023
---
Want to make your kitchen space trendier? You can refresh it by following five kitchen design trends that you'll see throughout 2023.
Bring On the Light
One exciting addition to kitchen spaces is bringing light in and making them feel more inviting. Because kitchens are often the primary social spaces, make your guests feel welcome in your kitchen by improving the light quality. The new year means opening the blinds and adding new lighting fixtures. For example, consider installing windows, a skylight, or eye-catching statement dimmer lights to entice your visitors.
Eco-Friendly Designs
Sustainability is a primary focus in society, along with interior design. Organic, eco-friendly materials can make a kitchen feel more natural. Consider using natural stone countertops, metal accents, wood cabinetry, and other natural materials to reduce your carbon footprint.
Vintage Appreciation
One focus many homeowners want for their kitchen spaces is working with what they have. While a gut renovation is an excellent option for starting fresh, focus on what makes your kitchen space stand out and make it a timeless highlight in your kitchen.
Some historical and vintage styles, including cottage or cabin design, are more favorable than a farmhouse and rustic style. Modernize outdated appliances and fixtures but keep standout details the same for a timeless, nostalgic feel.
Cabinets That Impact Your Mood
Let's face it—the colors, materials, decorations, lighting, and other kitchen additions can impact how it feels. For instance, if you go with all-metal and stainless-steel appliances with cool tone accents, it can feel sleek and mysterious. But did you know cabinetry can immediately transform how you feel in a room?
A quality cabinet style can make or break the mood of your kitchen. Therefore, an upcoming 2023 kitchen design trend is having your cabinets be the star of the room. Now is the time to play around with different cabinet materials, colors, sizes, and more to make them stand out and determine the room's voice.
Rise in Warm Colors
The year 2023 shows signs of design leaning back toward warmer tones instead of cool tones. Homeowners have started embracing warm tones and pops of color instead of monochromatic tones, especially in their kitchens.
There will be an increase in organic, saturated colors in kitchen spaces, switching solid white cabinetry to warm, natural wood tones in light and dark hues. Additionally, grays and whites will have a warmer tone, making kitchens feel cozy and inviting.
When you feel ready to refresh your kitchen, we at Kitchen Cabinets Depot will gladly help along the way. We offer ready-to-assemble wood cabinets that withstand the elements while maintaining a beautiful, simple appearance. Our discount RTA cabinets collection will help you narrow your search to find the perfect kitchen cabinet style with ease at the best possible price. If you would like to explore our discount cabinets, browse our website!
---
overall rating:
my rating:
log in to rate