by Kitchen Cabinet Depot • February 12, 2019
---
When refacing your kitchen cabinets you can replace the cabinet fronts with new doors and drawer fronts, so your kitchen can be transformed and really take on a whole new look.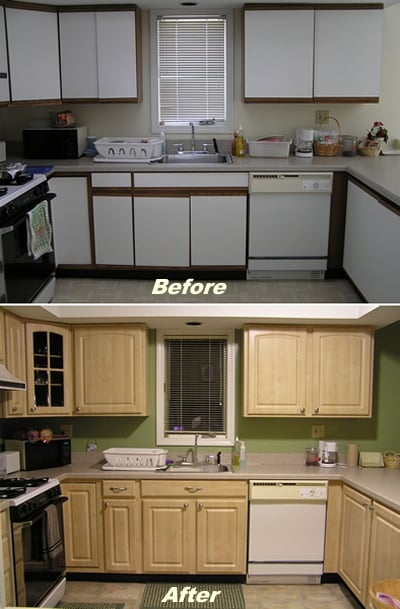 You can even cover all exposed surfaces with matching veneer or laminate with a self-adhesive back. This way a typical job takes from 3-4 days to complete without the need to dismantle any cabinets, sinks, countertops or appliances...so you save money and avoid the mess and clutter of a major kitchen remodel. The cabinet process can save you up to 50% or more of the cost of a complete kitchen remodel.

Kitchen cabinets refacing is one of the most economical way to remodel your kitchen. Kitchen cabinet refacing is the process of covering over existing kitchen cabinets with new wood veneer.
Kitchen cabinet refacing allows you to turn an old, worn out looking kitchen into a room that can add immense value to your home.
Assuming your cabinets are still strong and work well, updating your kitchen cabinets can be easy without all of the problems associated with a major remodeling job. In just a few days you can have a kitchen to be proud of.
The following steps should be taken before you begin the task of kitchen cabinet refacing
Decide on Whether to Replace Cabinets or Reface Them
For most homeowners a kitchen update can just be a few simple procedures and just adding some hinges and hardware, as well as new cabinet doors and drawer fronts. Also they can resurface their existing cabinetry. In planning for your kitchen renovation, you need to see if your current cabinet framework is so damaged that it may be better to replace your cabinets completely. However if you only want to change the finish of your cabinets, than cabinet refacing might be a more cost-effective way to go.

Estimate Your Kitchen Cabinet Refacing Costs
Get an idea from friends and relatives and find out about the work they may have had done. Make certain that your cabinet refacing specialist is licensed and reputable. Depending on the condition of the doors, style and size of cabinets the cost of cabinet refacing can run on average from about $3,500 to $10,000.

Get Quotes from Several Cabinet Refacing Companies
Locate different cabinet makers or kitchen cabinet refacing companies in your area and invite them to your house for a cost estimate of what the kitchen cabinet refacing should cost. Go on the web and look through your local yellow pages. Many companies also have franchisers all over the country, Try to get cost estimates from at least three different companies.

Have Them Create a Design Plan
Work together with them, get some ideas and have them set up a kitchen design plan or if possible get some kind of 3D picture of what your kitchen cabinets would look like after the refacing. Today many refacing companies offer this kind of computer generated kitchen plan. The right company will be sure to inspect the wood to see just what kinds of repairs may be needed. Make sure you are not just thinking about the optical changes like drawer fronts and doors or islands, but also if there is any need to change further hardware. Like drawer guides, tilt trays, hinges and cabinet shelf boards.

Compare Pricing on Cabinet Refacing
Now just compare the cost estimates you have collected. Look and the quality of the work they are offering and the amount of time the work will require. Depending on the company you select, a professionally trained kitchen cabinet refacing specialist should be able to have the work completed in just a few days.

OR YOU CAN...
Do It Yourself
Yes, you can. Thousands of homeowners have refaced their own kitchens successfully. It will take a day or two longer, but you can save thousands of dollars. Visit our Doors and Refacing Supplies Store for more information. You will find free how-to videos and literature, as well as high quality doors and materials.
---
overall rating:
my rating:
log in to rate