by Kitchen Cabinet Depot • June 20, 2019
---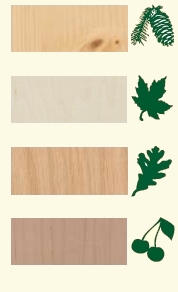 Many dealers will tell you their kitchen cabinets are made of "wood," yet a single box can be made up of a wide range of products and veneers. Even in better quality kitchen cabinets, solid wood may be used only for doors and frames.
A kitchen cabinet made entirely of solid wood may not even be your best bet, particularly if you live in a high humidity area. Wood reacts to humidity, or the lack of it, and to temperature changes in the environment, and therefore you can expect some shrinking or warping over time.
On the other hand, solid wood kitchen cabinets looks, feels, and smells like "quality" and exudes a sense of warmth that cannot be matched by composite and synthetic materials. The best quality cabinets match the wood grains of their faces and boxes.
Woods most used for cabinets
Oak is the most common wood used for solid wood cabinets. Because of the strong "flower" grain in the wood, oak looks best in country settings. You can stain it almost any color, and since the graining is so strong, the grain will always come through the stain. To offset the reddish coloring, use either white oak, which is whiter in natural coloring, or, if you are using red oak, go "browner" in the stain selection. A cherry stain enriches the color of red oak.
Cherry, used primarily in formal cabinets with raised panels, either French or English style, is an elegant wood with a natural reddish coloring that is much deeper than oak.
Rift oak is a veneer much sought after by architects and designers. The oak flower is cut away, leaving the vertical grain. White oak is used for rift selection, so that when it is stained it becomes very light. This type of oak would generally be used in flush overlay construction, in which no frames would be visible.
Hickory, another wood used in country settings, is a strong brown wood with natural markings.
Birch has a very white, natural coloring. It takes a stain well and is often used in contemporary cabinets as well as in raised and recessed panel doors.
Ash is the whitest wood and often employed in cab­inet interiors. It has very little graining or flower and takes a stain well in addition to easily accepting enamel or lacquer paint.
Pine, which has a yellowish cast, takes distressing and antiquing beautifully, one reason it is so often used in English, French, and American country settings. Its drawback is that it is a soft wood and can be nicked easily.
Maple is a hard wood that some manufacturers use primarily as a base for enamel or stains. It has little graining and tends to appear yellow.
More exotic woods, such as wormy chestnut, which is highly distressed, and cypress, which has a yellow cast, are primarily available regionally and are not offered by most kitchen cabinet manufacturers. Those who know best about how to work with these woods are specialty wood workers.
In ordering wood kitchen cabinets, try to see a sample of currently produced work to check the colors. Samples can oxidize over time so you'll want to see how the fresh stains appear.
---
overall rating:
my rating:
log in to rate