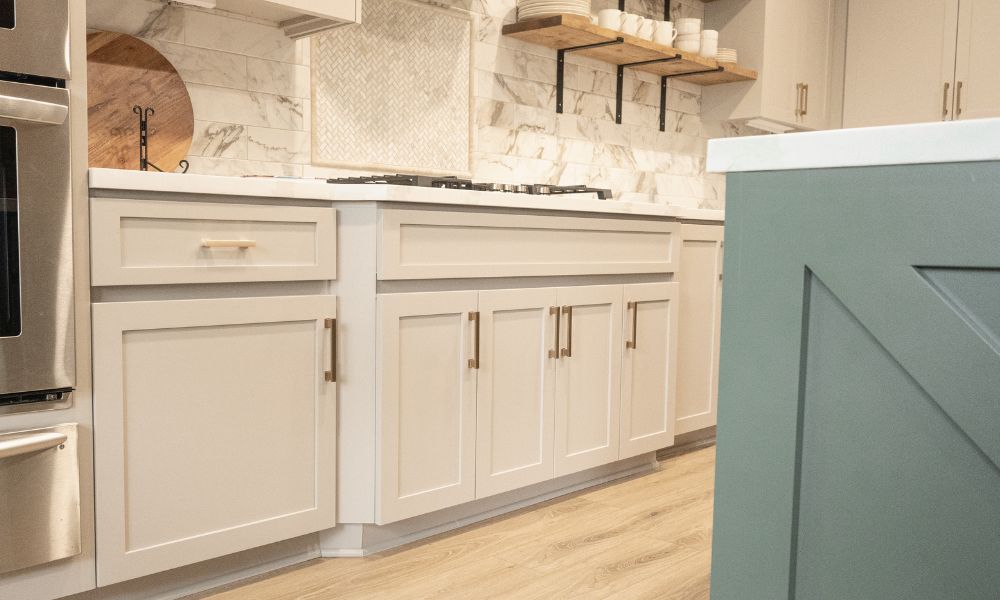 Discussing the differences between shaker cabinets vs. raised panel cabinet doors will help you understand which delightful kitchen cabinet styles are for you.
by KCD Blog • August 16, 2023
---
Shaker cabinets and raised-panel cabinets dominate the market for kitchen storage. These two varieties of cabinet doors are suitable for either a classic or contemporary kitchen, making them the two most common options for homeowners and DIYers.
Choosing between two cabinet options is difficult since they're both great for your kitchen. But understanding the distinction between shaker cabinets and raised panel cabinet doors can help you make the best decision.
Shaker Cabinets
Shaker cabinets came to be when a community of American immigrants came here wanting a simple way of life. The design behind the shaker cabinets was practical and useful. The quality of the cabinets trumped the intricate designs you might see elsewhere, as these cabinets have favored simplicity and uncomplicated elegance for generations.
Advantages of Shaker Cabinets
The best thing about shaker cabinets is they fit well with nearly every possible design and aesthetic. White shaker-style kitchen cabinets for sale mesh well with traditional and modern kitchens.
Shaker cabinets are relatively inexpensive compared to other options, making them ideal for many home renovation projects. While they aren't as pricy, that doesn't mean they are weaker or look worse than their counterparts. The quality will always be there for top-notch shaker cabinets. Plus, shaker cabinets are simplistic and practical, so they are a breeze to clean.
Raised Panel Cabinets
Raised panel doors are a hallmark of a classic formal aesthetic. These cabinets have a raised central figure with rectangular framing.
Many designers use stepped frames to provide the illusion of more space within. Some have rounded corners and arches, while others have squared corners and various elevated panels and frames. Some even include fancy extras, like glass or metal inlays.
Advantages of Raised Panel Cabinets
Raised panel cabinets are formal and distinctive while offering neutrality to your kitchen. And if you aren't sure that a certain design is for you, there are several options available to find the design you want. In terms of decoration, raised panel cabinets rise above shaker cabinets because their elaborate 3D style and impeccable frame complement each other perfectly.
What To Consider
If you look at them objectively, there isn't one cabinet that's better than the other. However, one cabinet style might look better based on your style, budget, and space. If design doesn't bother you, shaker cabinets are your best bet, especially if you want something uniform and easy to maintain.
On the other hand, raised panel cabinets can give your kitchen a touch of flair that can shaker cabinets lack.
Regardless of the difference between shaker cabinets and raised panel cabinet doors, both are impeccable additions to your kitchen renovation. Kitchen Cabinet Depot has both options in several different styles and colors. By elevating your renovation with our cabinets, your kitchen will look immaculate!
---
overall rating:
my rating:
log in to rate